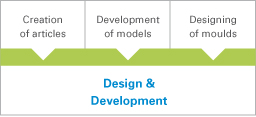 It is important for us to offer comprehensive support to our customers during the whole project. For this reason, the package Design & Development is automatically included in the purchase of moulds.
This package includes professional consultation in the configuration of the articles, regarding the extension of the blowed material, stability at falling and pressure tests, combined with an innovative and efficient design. Furthermore we support you with professional and tailored article design in order to minimize your material costs.
In addition we offer in our package the development of 3D and stereo lithography models plus the consultation to design moulds optimally.