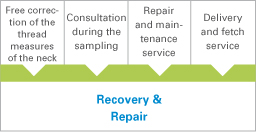 After the delivery of the mould POLY TOOLS is still a competent and reliable partner. This is guaranteed by our integrated package Recovery & Repair.
The monitoring and the consultation during the sampling as well as a free correction of the thread measures of the neck after sampling are included in this package. Additionally we support you per example in case of used cutting edges or by damaged guidances with our repair and maintenance service.
These services are completed by a delivery and fetch service, where papers and insurance are included. Deliveries abroad are also possible.
Furthermore we support you with special advice as well as with moulds analysis for possible modifications.